Well done and a huge thank you to all our pupils, together with their families they raised a huge amount of £551.92 in support of Rory Best and his Walk to Mayo, all in aid of Cancer Fund for Children.
Pictured below is Mr Mason with some our pupils presenting the cheque to Mairead Rodgers from Cancer Fund for Children.
The children of St. Paul's had a wonderful day planting trees!
Each and every child planted their own tree in the school grounds kindly donated by County Down Rural Community Network.
These will be an everlasting, yet positive reminder of this unusual school year!
Jake, Koa & Adam - Our P1,2 & 3 class Winners. Well done boys!!
Our P1 & 2 children displaying their wonder creations, followed by the P6 & 7 class parade
P2/3 Class with some Eggsellent displays
Our P4/5 Class with their fantastic display of Easter Bonnets
Our P6/7 Class with their very unique collection of Easter Bonnets
Some of our Eco Committee at "The Big Planting Day"
(Missing from picture - Demi-Lee and Caoimhe)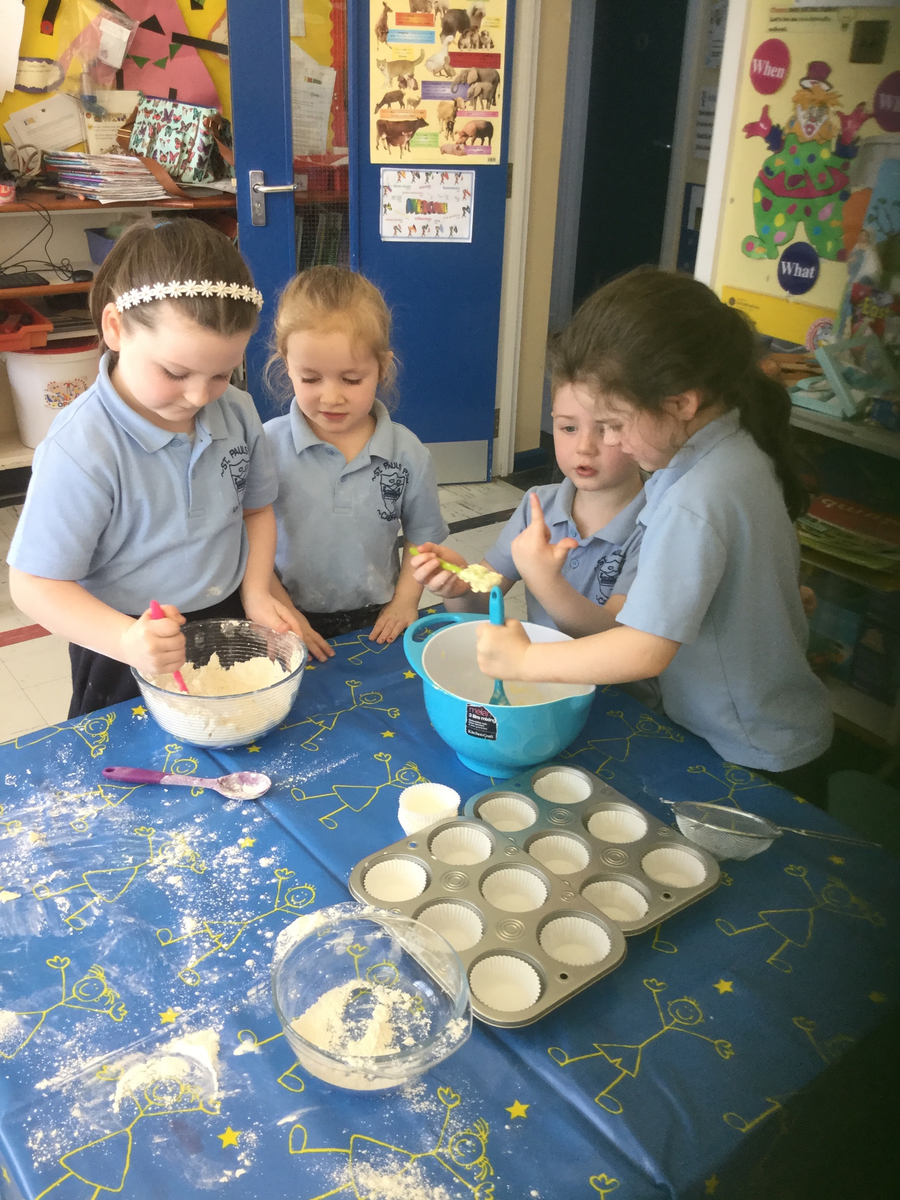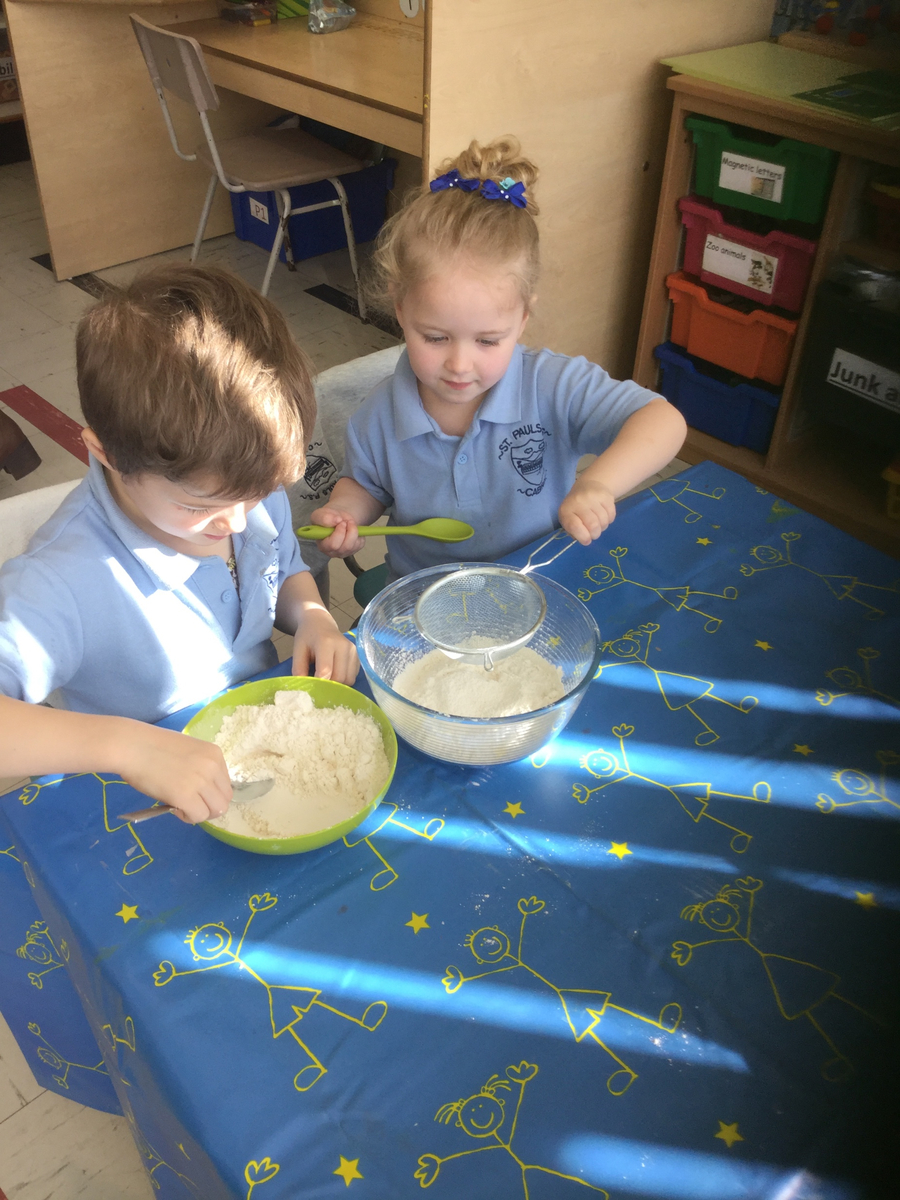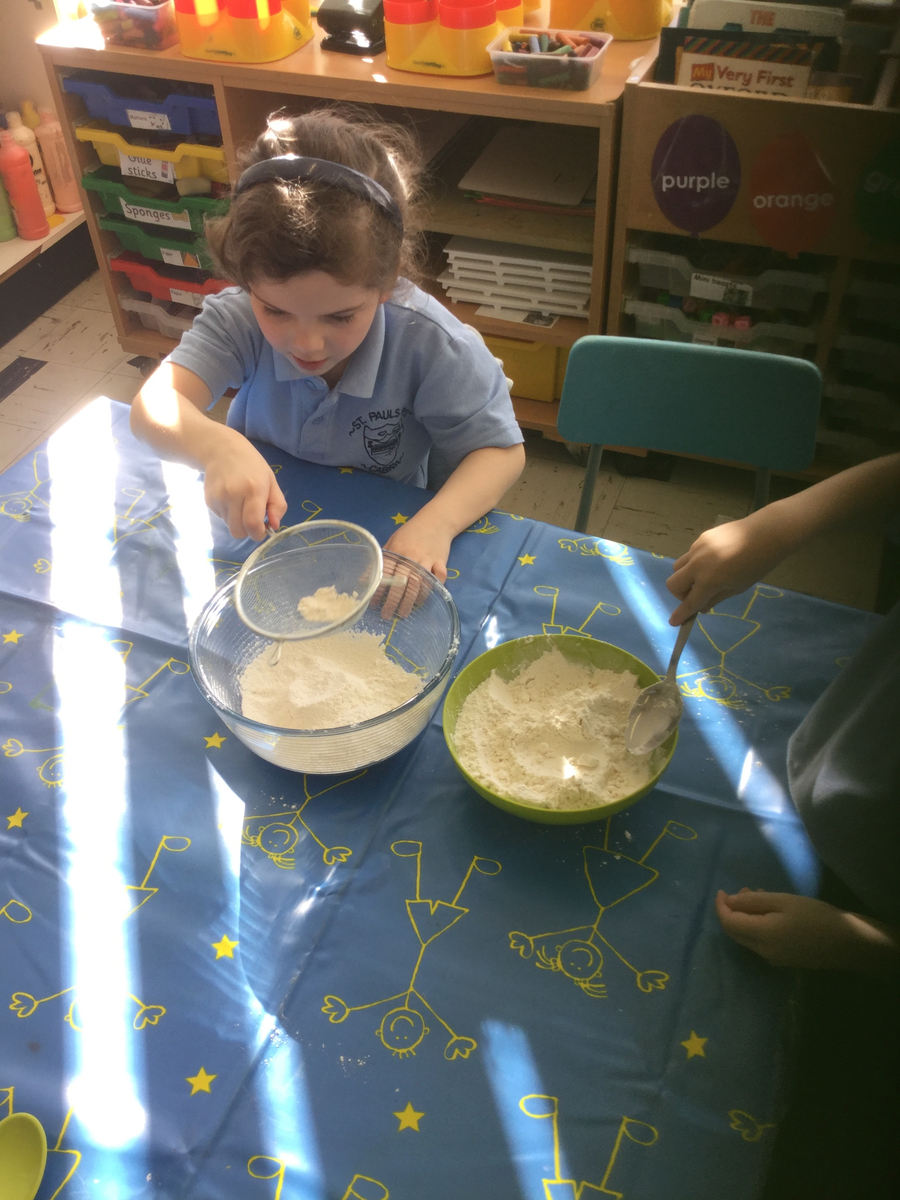 ☘️☘️Lá Fhéile Pádraig - Happy Saint Patrick's Day☘️☘️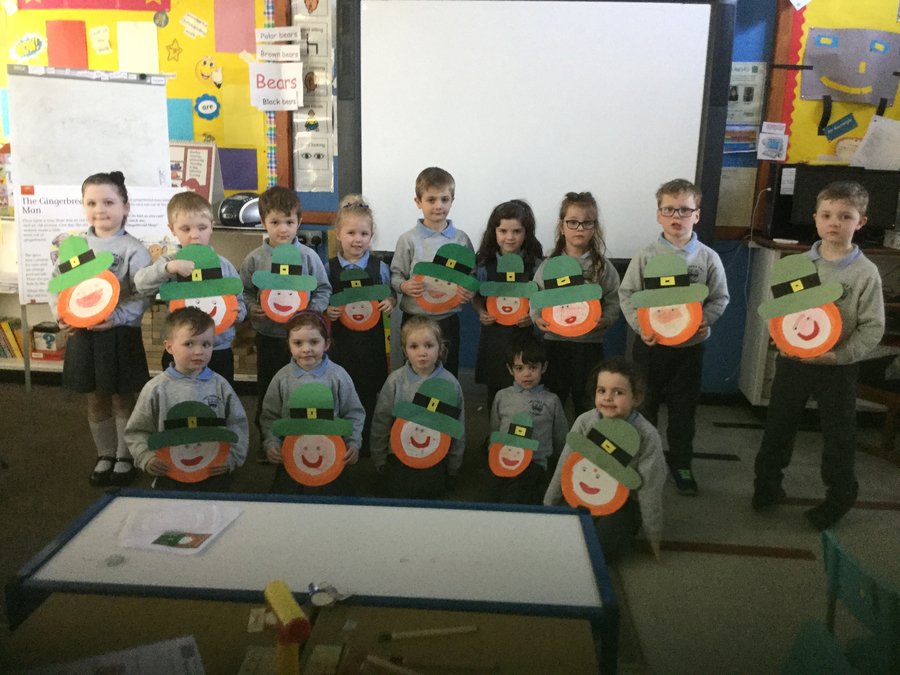 Some of Santa's Little Helpers: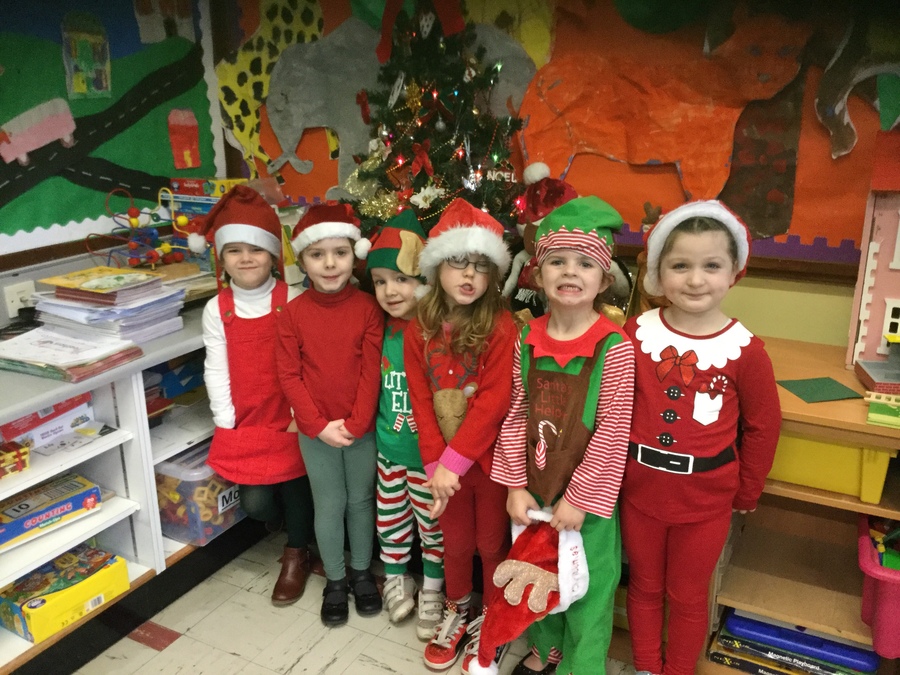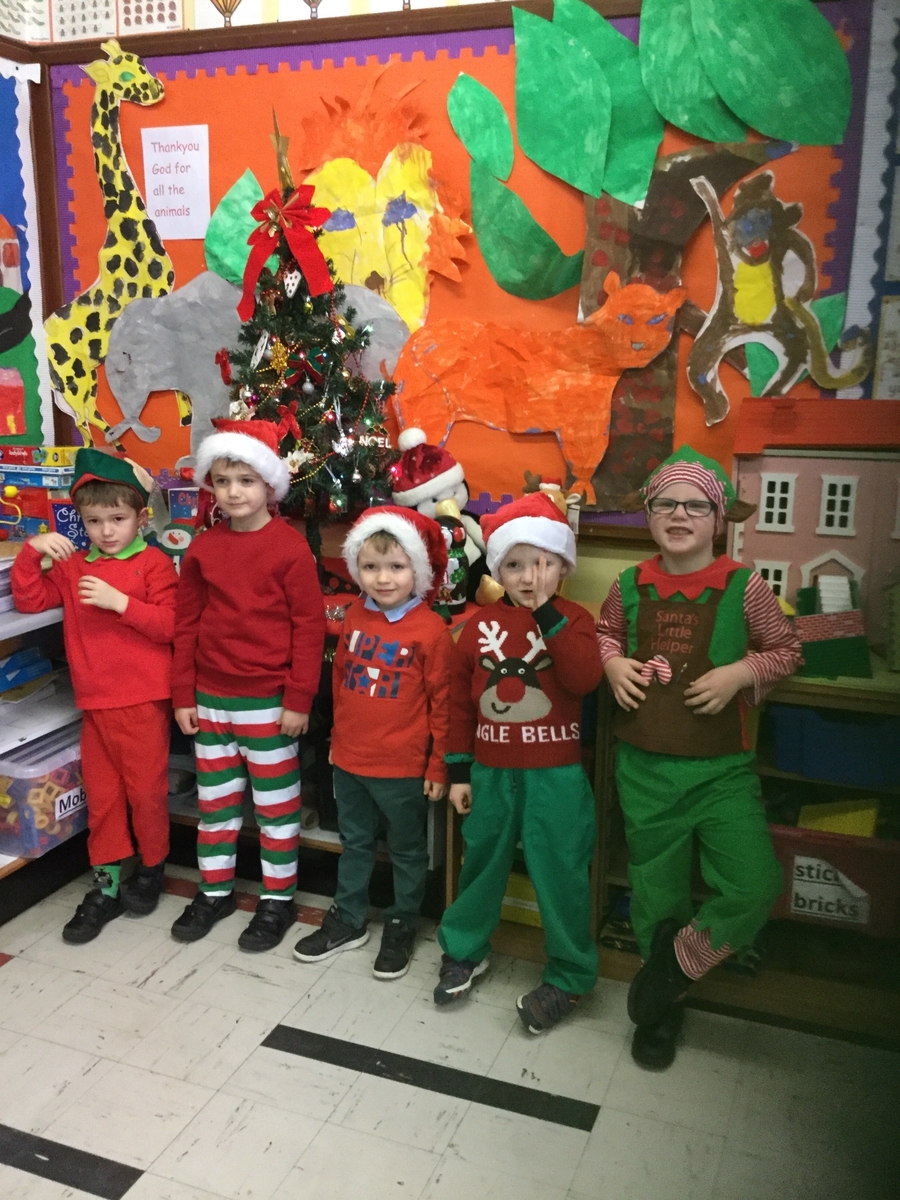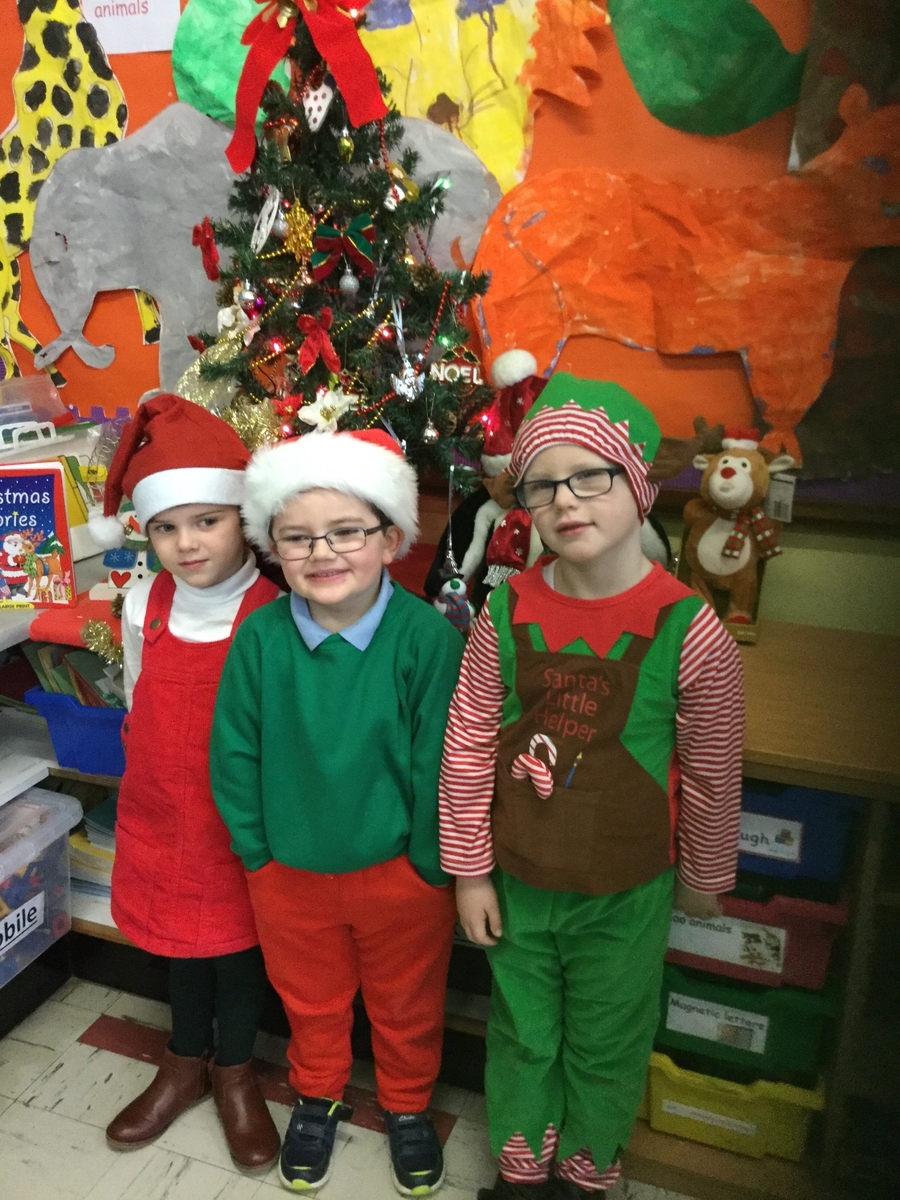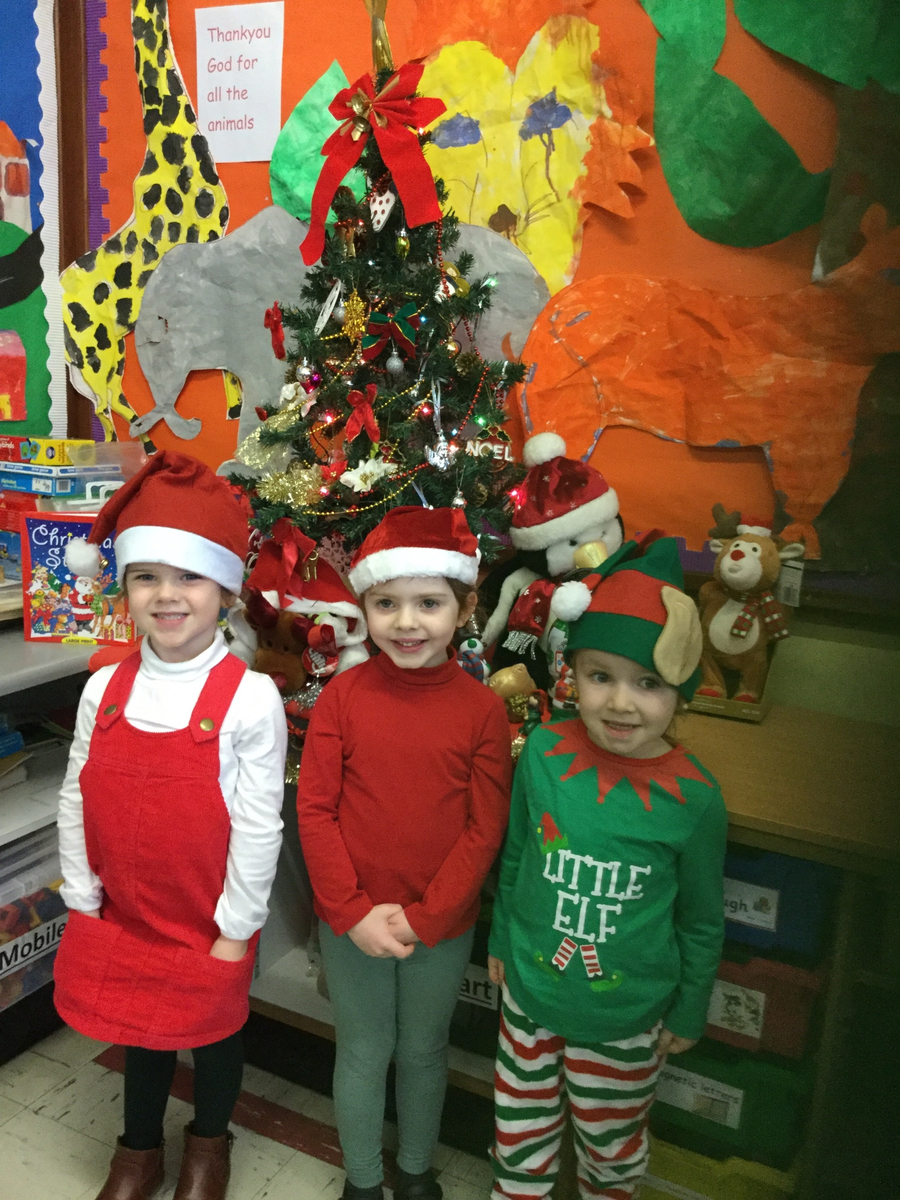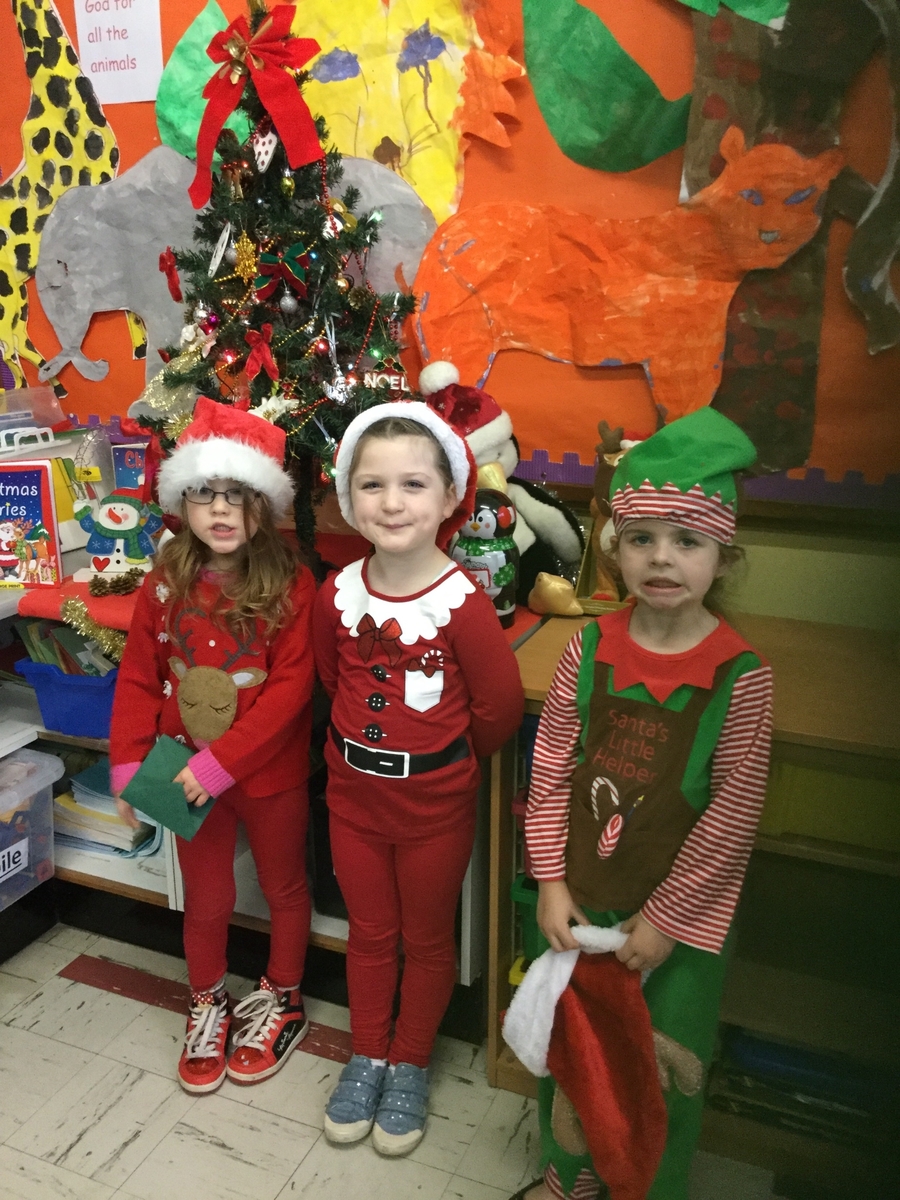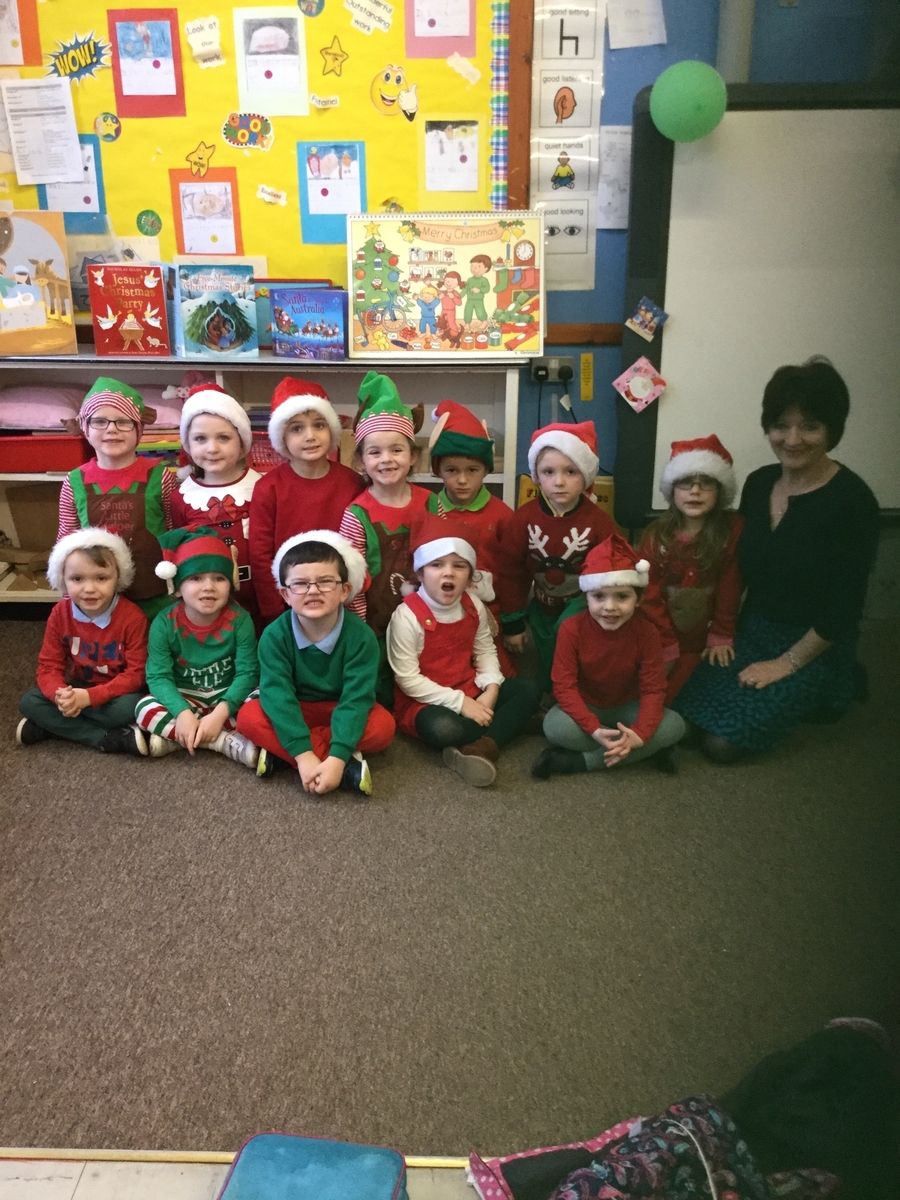 Congratulations, Aoibhin
Well done Aoibhin (P3) for winning this beautiful shield for playing the tin whistle.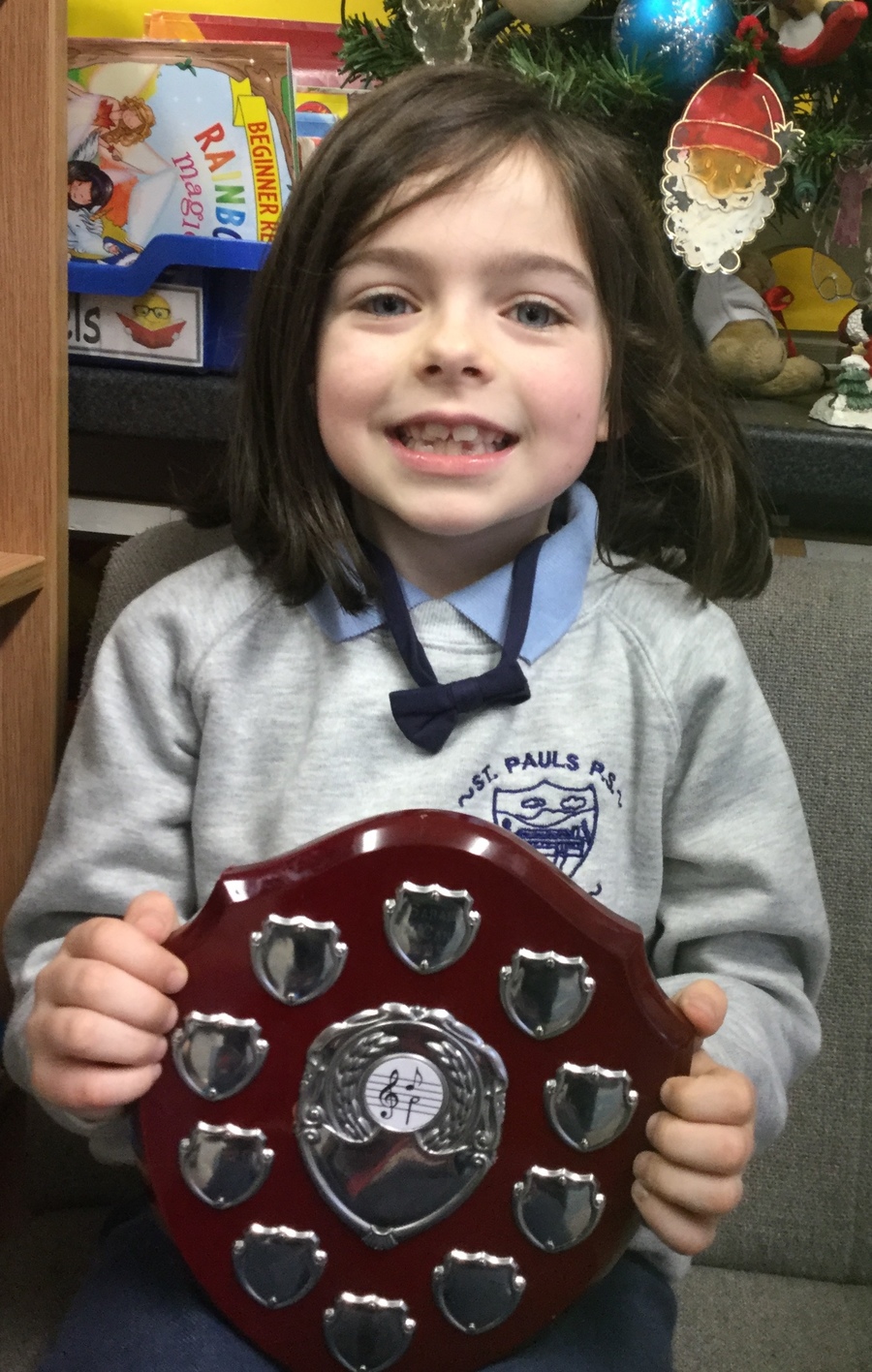 Our Mystery Visitor
A man in a red suit has been spotted taking selfies around our school. We are wondering where he will be next!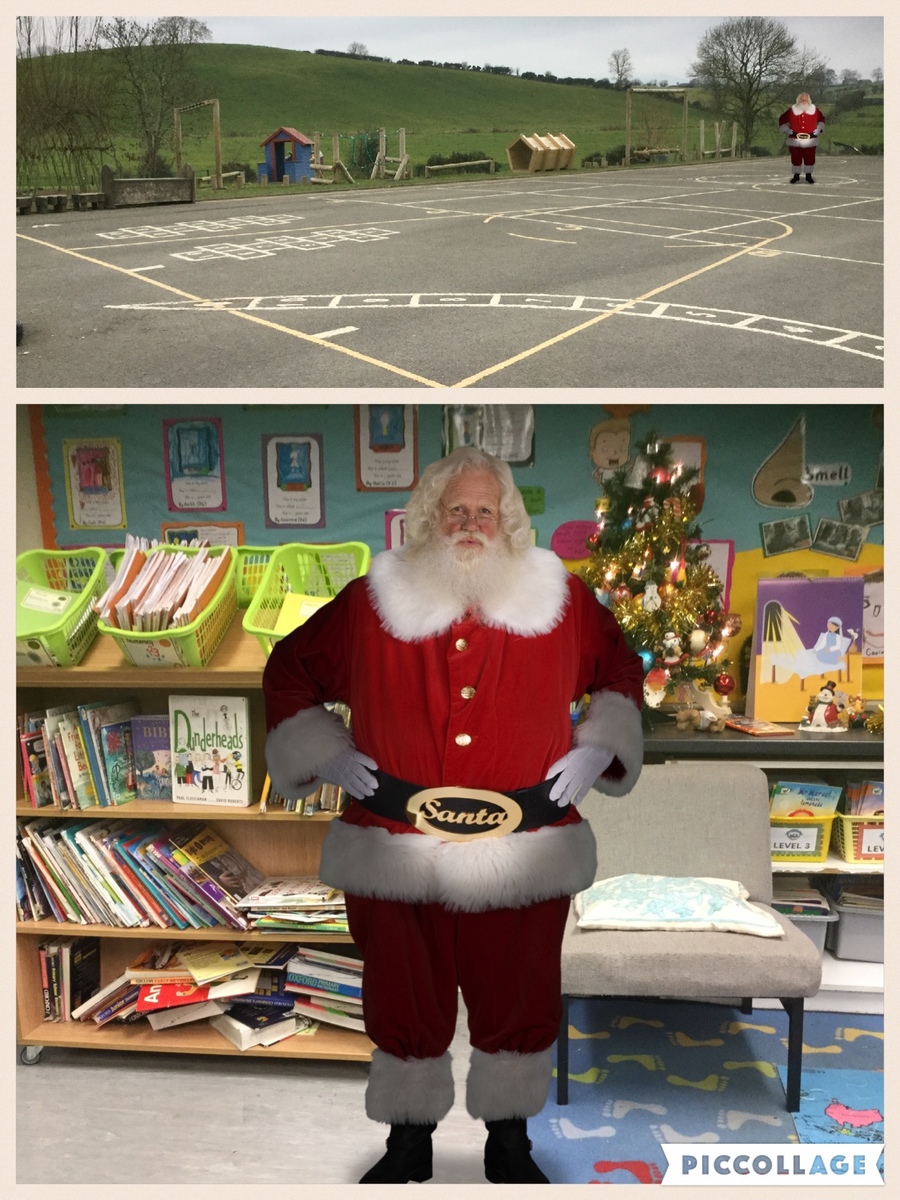 Flying High
Lucky Anna Morgan was flying around in a helicopter this weekend. Her little sister won the prize but she was too young so It was between Anna, Aaron and Niamh. What an experience!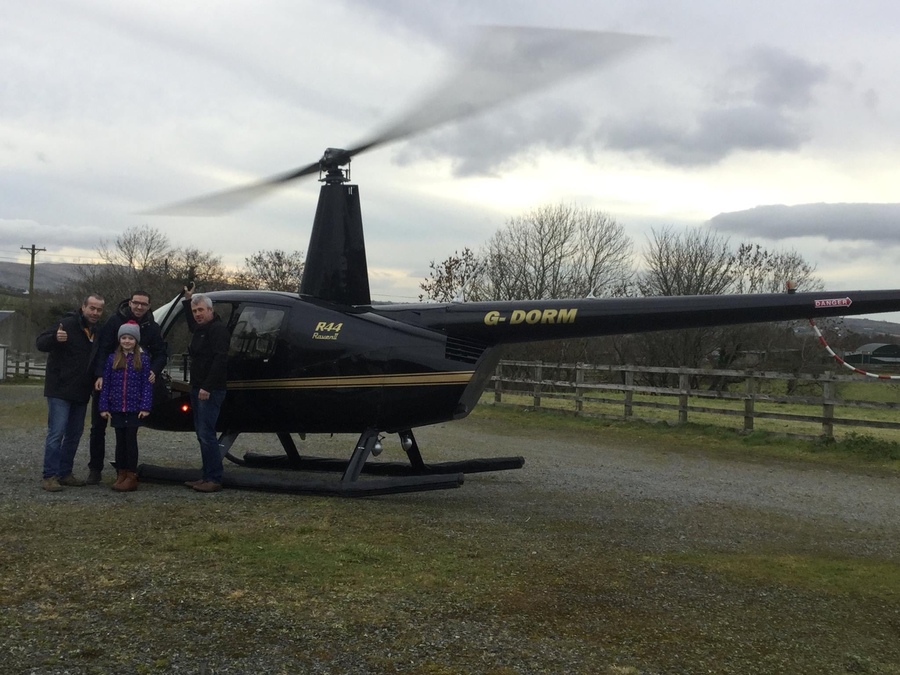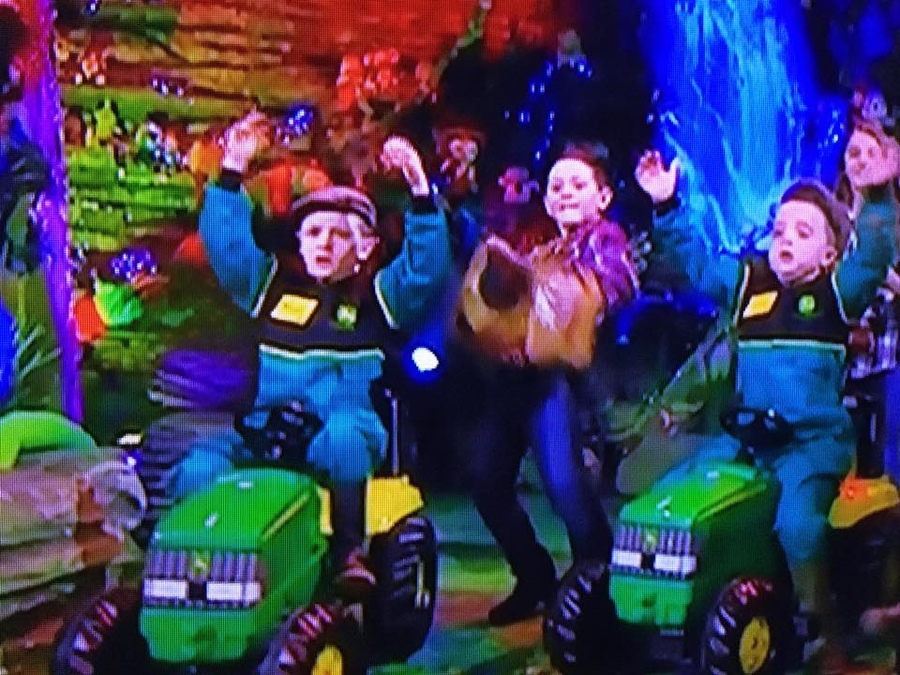 Don't forget to watch this Friday night. Our very own Micheal Murphy (P4) will be starring on the show along with his cousins. We are all so excited.
Have a wonderful time Micheal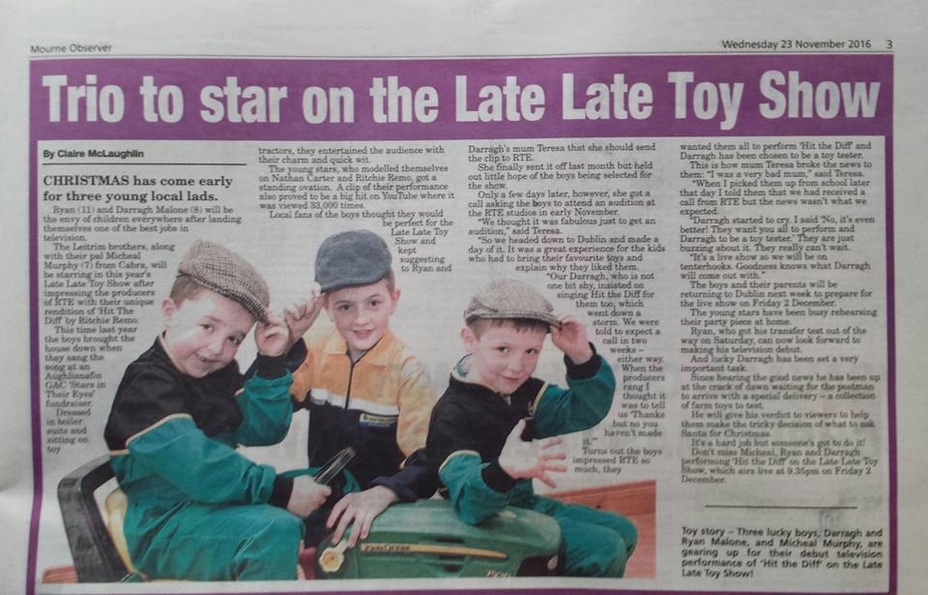 Captain Tom Smyth
We are very lucky to have an Honorary member of the San Jose Fire Department in our school - TOM SMYTH in P3! Tom received a letter from the department stating that he has been promoted to Honorary member. The reason for this was his display of good manners, hard work and bravery in the face of danger.
He received a full uniform, baseball cap and badge. He was asked to teach the other pupils about crossing the street correctly and the dangers of fire.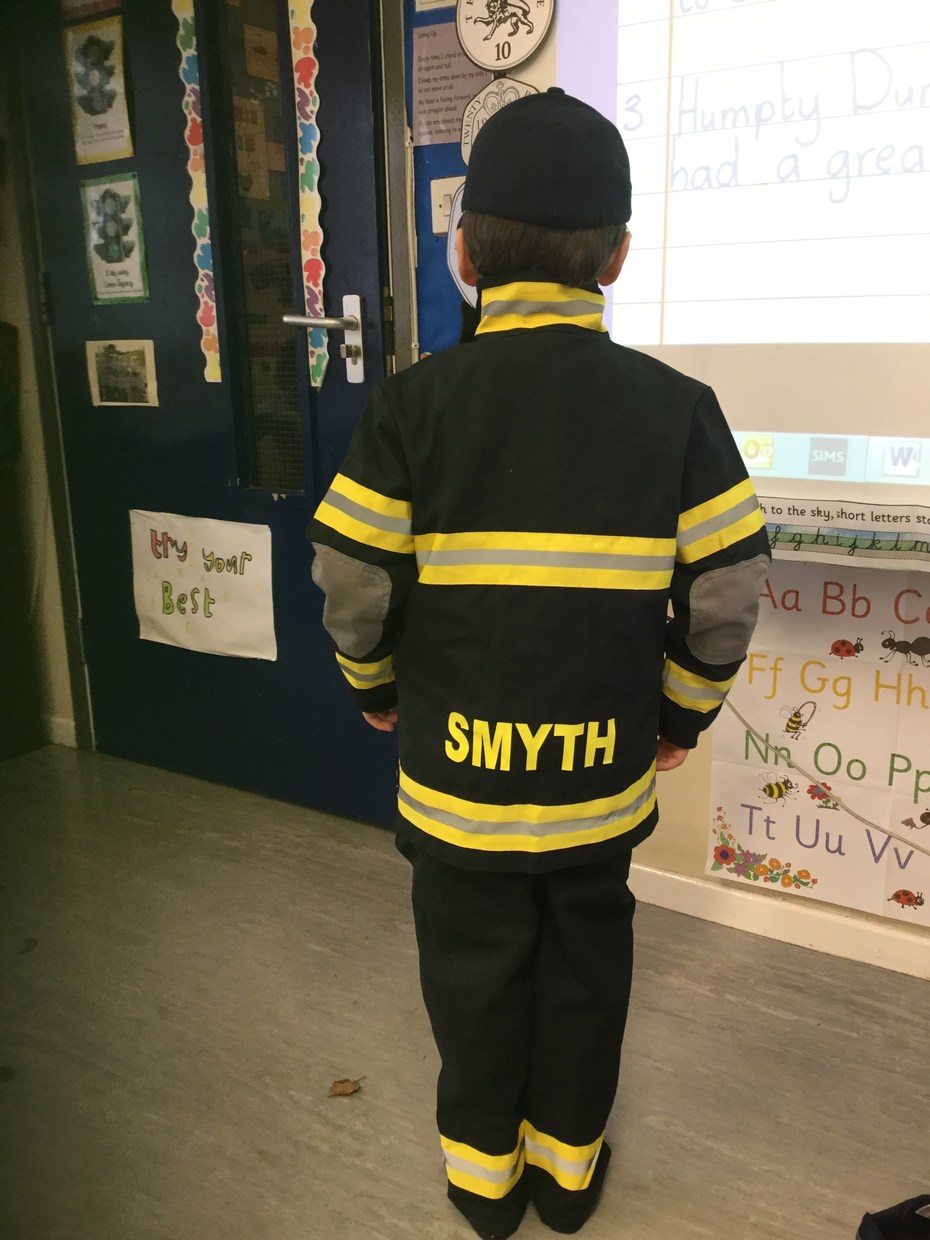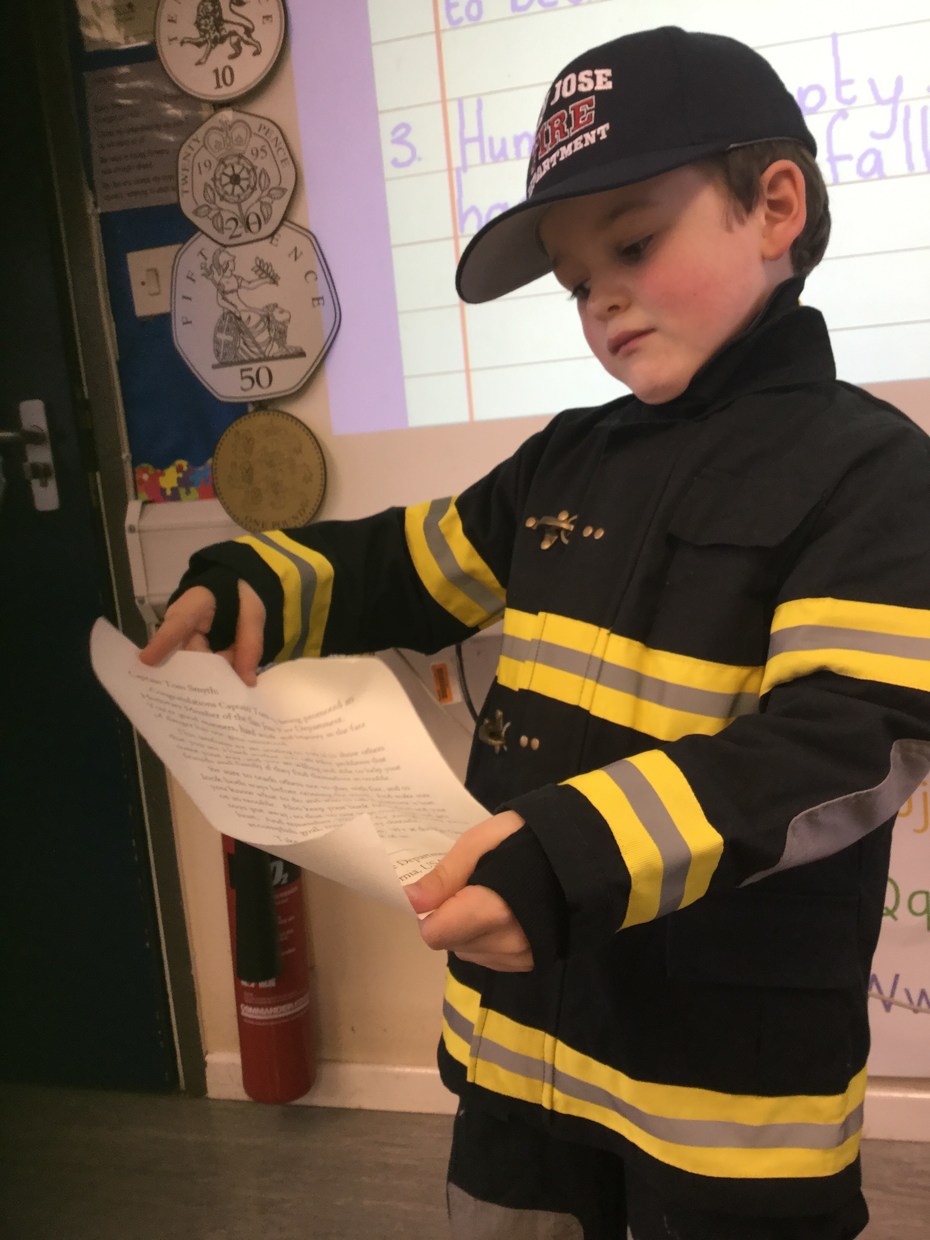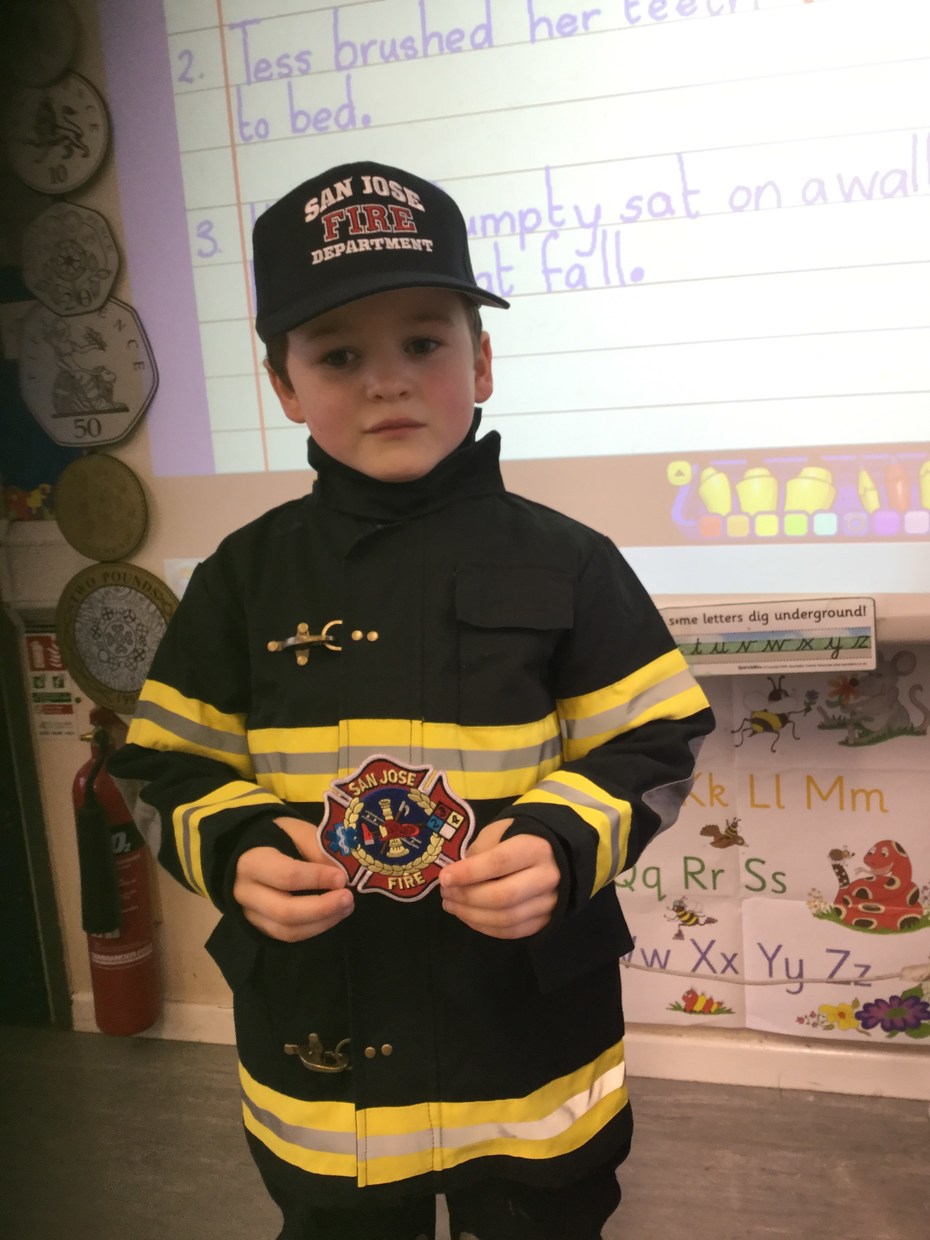 Congratulations
Congratulations to Daniel Gribben (P3) for winning a NEWSDESK goodie bag in the recent writing competition. Newsdesk junior ran a writing competition entitled "All About Me" for P3 and P4 children throughout Northern Ireland. There were only ten winners and Daniel was one of them! David Huntley from the Newsdesk crew came to school to present Daniels with his goodie bag. The winning entry along with all the entries from P3 are displayed in the main corridor for all to read. Well done to all who took part.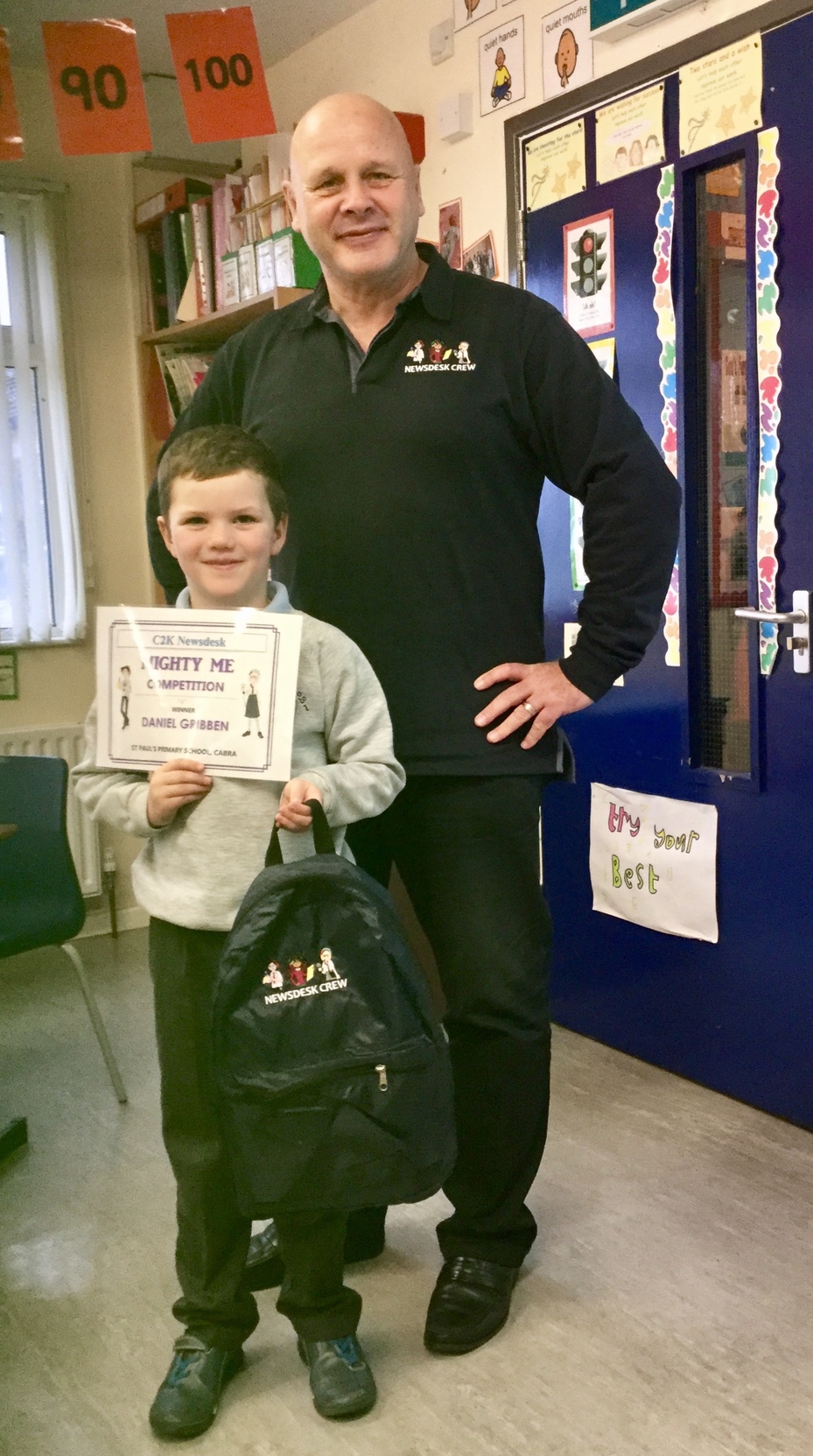 ooooooooooooooooooooooooooooooooooooooooooooooooooooooooooooooooooooooooooooooooooooooooooooooooooooooooooooooooooooooooooooooo
Soccer Skills
Soccer skills is taking place in school as part of PE every Wednesday morning. Every child in the school participates and they love it! The IFA coach constantly remarks on the excellent behaviour and listening skills displayed in Cabra.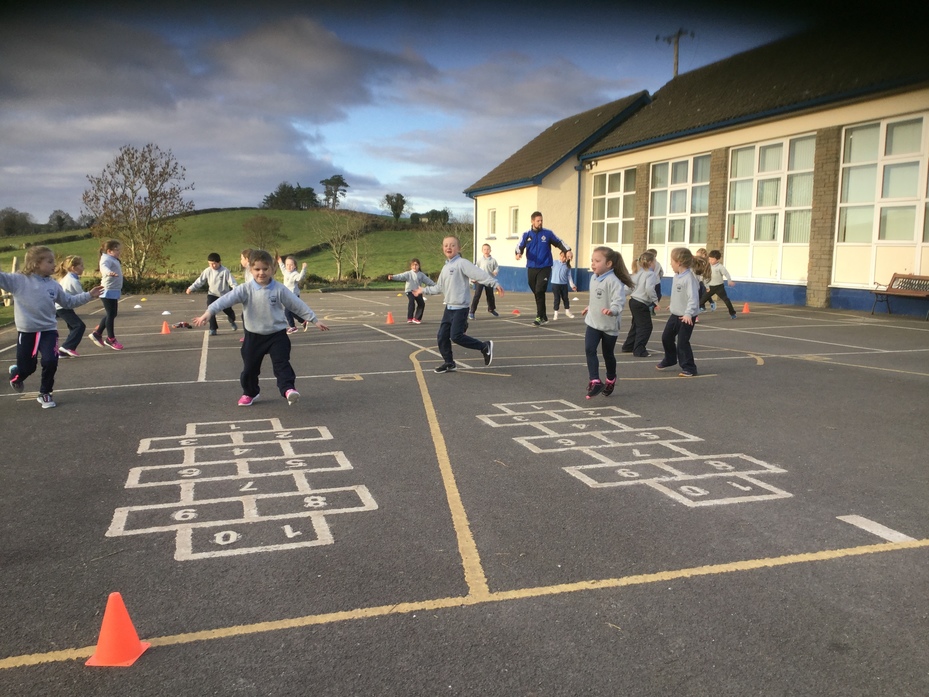 ..................................................................................................................................
Welcome
We would like to say a very big WELCOME to our new Principal, Mr Declan Mason and our new secretary, Mrs Christine Smyth.
We hope you both have many happy years in Cabra.
--------------------------------------------------------------------------------------------------------------------------------------------------------------
A massive thank you from all the staff for the wonderful cards and gifts that have been sent into school. They are greatly appreciated and really mean so much to us. It has been a pleasure working with your children and after a wee rest we will all be ready to go again....with a few changes!
Thank you for all your support throughout the year. It makes school a much easier place when we all work together.
Have a fantastic Summer.
See you all in September
.......................................................
Goodbye P7
It was a bitter sweet day today as we said good bye to our wonderful P7's. We started the celebration with a mass in which every child took part and then we had a delicious buffet while watching a powerpoint of photographs of all their years in our school. There were tears and laughter from children, parents, grandparents and staff.
Mrs Ward (Niamh's mummy) presented each leaver with their new school ties on behalf of F.O.S.P.A
On behalf of all the staff in St. Paul's, we wish them every success in their new schools and we will sincerely miss you all.
Thank you once again to Harry and Pauline O'Hare at The Downshire Arms in Hilltown for the beautiful food.
(If any parent would like a copy of the P7 powerpoint, just send in a memory stick to Mrs Truesdale)
-----------------------------------------------------------------------------------------
School Trips
P3-7 went to Eclipse Cinema in Downpatrick to see Angry Birds and then on to Delamont country park. They had glorious weather and really enjoyed their day. The staff had a good day too as you can see in the photographs! Some people never grow up.
(More pics in The Gallery)
Farm Safety
Kevin from HSENI cam eto school to talk to all the children about staying safe on and around the farm. The children also watched a video about dangers on the farm with a very hard hitting message.
Happy Birthday Mrs Lenaghan
Mrs Lenaghan came into P3/4 on Friday to a rousing rendition of Happy Birthday.
Fire Safety
P1 and P2 had a visit from Firefighter Damian. Damian is Tom's daddy and he came into school to talk to the children about fire safety.
St. Paul's Visits St. Mary's
P5/6 had a wonderful day in St. Mary's Dechomet on Thursday 21st April. As part of the PDMU programme, they were able to experience daily life in another school. They took part in lots of different activities designed to foster friendships. We look forward to returning the favour and inviting our new friends from Dechomet to Cabra.
More pics in the gallery
Netball
Netball starts on Wednesday 20th April for P3-P7 girls from 3-4pm. This will run for three weeks.
Cycling Proficiency
Cycling proficiency begins on Monday 11th April in school 3pm-4pm for P7 pupils.
Cookery Club

Cookery club begins 12th April for P3 and P4 with Mrs Grant. This has proved to be the most popular club of all time. Lots of budding chefs will come from Cabra in the future!
P3 : 2pm-3pm P4 : 3pm-4pm
April 12th
April 19th
April 26th
May 3rd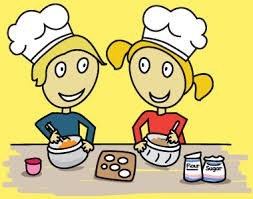 First Confessions
Congratulations to the children of P4 who made their First Confession on Tuesday 1st March. They performed the story of The Lost Sheep.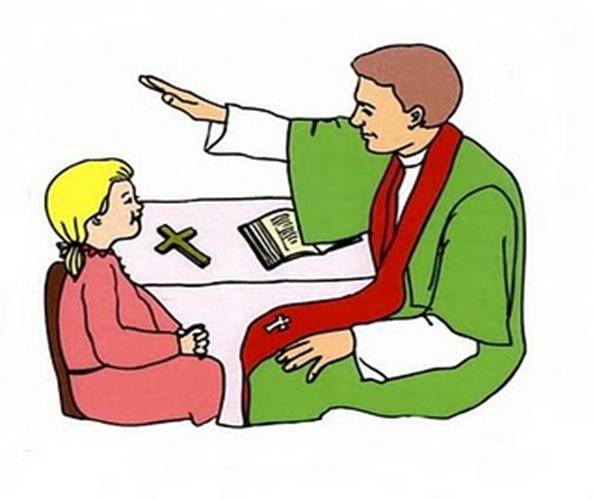 WWWWWWWWWWWWWWWWWWWWWWW
2015-2016-2015-2016-2015-2016-2015-2016-2015-2016
WWWWWWWWWWWWWWWWW
First Confessions
The P4 children made their First Confessions on Tuesday 4th March. They told the story of Zacchaeus. Daniel and Serena sang solos. (Pictures to follow)
.......................................................
Warrenpoint Feis
Warrenpoint Feis has ended once again, the children of St. Paul's have excelled themselves. Every class came back with medals and cerificates. Daniel (P2), Odhran (P4), Deirbhile (P4) and Setanta (P5) went back on Wednesday as gold medal winners, to compete for a cup.
Odhran (P4) won the Warrenpoint Feis Primary Schools Cup.
Well done to everyone who took part - We are so proud of you.
Welcome
Mr Ryan Johnston has joined our school for six weeks work experience. He will be in P3/4 class. We hope he enjoys his time at St. Paul's as much as his brother, Jerome, did last year!
..................................................................................
Monday 6th January
See you all then
><><><><><><><><><><><><><><>
You may have noticed that "Prickly Hay" was missing a king on Wednesday night - this is why! He had a wonderful unforgettable experience.
Tuesday 17th December @ 10.15am & Wednesday 18th December @ 7.30pm
P3 - P7
and
Rec - P2
Our Visit From The Library Van
There is always great excitement when the library van comes to visit. A few children from each class sort the books and bring them out to the van to exchange for a whole new set to re-stock the class libraries.
Shoebox Appeal
Thank you all so much for your generosity. We had a great response (As always) to our Shoebox Appeal.
Pictures to follow
Balloon Launch
Thursday 3rd October @ 1.30pm in school
To launch our 50th anniversary celebrations
(Pictures in the Gallery)
.........................................................................
After School Clubs
(Term 1)
2013
P3 TinWhistle Miss Devlin Monday 2pm-3pm
P4 Tin Whistle Mrs Truesdale Monday 3pm-4pm
P7 Lit/Num Mr Devlin Monday 3pm-4.15pm
P5/6/7 Homework Mrs Paul Wednesday 3pm-4pm
Parents will be notified by text of any changes
................................................................................................................................................
TIN WHISTLE CLASS
Please note
P3 Tin whistle class time has changed to
2pm-3pm
from Monday 30th September
Miss Devlin will be teaching this class
P4 tin whistle class will remain 3pm -4pm with Mrs Truesdale
As part of our 50th anniversary, we would like to gather up as many memories as possible. So this is an appeal for photographs, artefacts, books or even hand written memories. Have a good look around your house and bring in anything from your time in St. Paul's, please.
Thank you
(Any photographs will be copied straight away and you can take the original home again)
WALK WITH CHARLOTTE
Walk With Charlotte
Hi friends as you know our Daughter Charlotte suffers from a condition called Diaplegic Cerebal Palsy through the great support we have received from various organisations that have helped us we have decided to do three different fund raising events
The first is on sat 24th August it will be a family Sponsored walk from the Downshirearms round the Bann Lane and then back to the Hotel for a fun filled family day
Admission will be free to the fun day for all those who raise money through sponsorship there will be a £5 admission for anyone else who wishes to attend Sponsor Cards will be available from Friday 9th August from the Hotel
Counting on your Support
Pauline & Harry O Hare
SUMMER SCHEME
22nd -26th July
P3
Our theme this year, was THE ENVIRONMENT. We learned all about recycling andcaring for our world. On Thursday 25th July, we went to Slieve Gullion Park to enjoy the adventure playground built on to the mountain.
More in the gallery
Welcome to St. Paul's
Our new pupils enjoyed their first day
.........................................................................................
To Deirbhile Devlin (P3)
GYMNAST OF THE YEAR
(More pictures in The Gallery)
>>>>>>>>>>>>>>>>>>>>>>>>>>>>>>>>>>>>>>>>>>>>>>>>>>>>>>>>>>>
F.O.S.P.A Logo Competition
Well done to Chloe Flynn (P7)
(More pictures in The Gallery)
Cycling Proficiency
Begins 23rd May 2013
for P6 and P7 pupils
Make sure you have a helmet and your bicycle is in good working order
000000000000000000000000000000000000000000000000000000000
On behalf of Clonduff Development Enterprise:

Fold Housing for Hilltown
Clonduff Development Enterprise is working towards the provision of sheltered accommodation in the Hilltown area.
We have invited the Housing Executive to meet with the community and examine the demand in our area.

Meetings will be held as follows at the Downshire Arms Hotel:
• 7.30pm – 8.30pm, Tuesday 18th June 2013
• 12noon – 1pm, Wednesday 19th June 2013

NOTE: these meetings will be dealing with the issue of providing sheltered accommodation for the elderly and will not be looking at general demand for social housing.

Please spread the word, especially to any elderly members of your family and community.

County Down Rural Community Network is working with CDE on this project.

Clare Shiels
Rural Development Officer
County Down Rural Community Network
Carcullion House
25 Rostrevor Road
Hilltown
BT34 5TU

Mobile: 0770 279 3111
Main office: 028 4461 2311
Email: clare@eastdownrcn.com
Web: www.eastdownrcn.com
Including The Parent's Events
I hope you are all in training for it
MONDAY10th JUNE 2013
Results of all events are on the school noticeboard.
Father's Race : Barry McAlinden (1st)
Mother's Race : Andrea
McCloskey(1st)
...........................................................
To Eoin (P3)
PLAYER OF THE YEAR
Rathfriland Football Club
Under 8
THANKS to everyone who came to the cake sale today and those who provided prizes for the raffle. Over £500 was raised and everybody went home with lots of goodies. There are some very talented bakers in Cabra!
==============================================================
CONGRATULATIONS
to our wonderful P4 children, who made their First Communion on Saturday 4th May in Cabra. All twelve children looked fantastic, read perfectly and sang beautifully. They made us very proud.
(More pictures in the gallery)
.......................................................................................................................................
Reception, P1 and P2 had great fun when the tractor came to visit
All pupils finish school on Wednesday 27th March at 11.30am
Term 3 begins on Monday 8th April
.....................................................
CONGRATULATIONS
to Erin (P5)
Front row - middle
World Irish Dancing Champions 2013
AFTER SCHOOL CLUBS
As a reward for participating in after school clubs (Filmclub & Homework), the children are having a day at the cinema. They will leave school on Tuesday 26th March at 9.15am for a private screening of "The Croods" in Newry Omniplex followed by lunch in Burger King and finally (Weather permitting) some fun in the park. All this is possible because of extended schools programme.
The children of P4 will also be joining us as a reward for all the hard work they put into their preparation for Confessions.
(Filmclub members who have registered and written at least 5 reviews online. Homework club members who have attended 85% of sessions so far)
_______________________________
Well done to Leo, Larry, Sarah and Isabella (P7), who represented our school at the La Mon Hotel today. They showcased their inventions under the guidance of Mr Johnston. They even met the Minister for Education. (I hope they told him about their wonderful school)The primary 7's all agreed that this was a really fun project to be part of. Who knew science, technology, engineering and mathematics could be so much fun?
******************************************************************
E

a

s

t

e

r

R

a

f

f

l

e
F.O.S.P.A have organised the Easter Raffle with14 fantastic prizes. Tickets are £1.00 each. As the old saying goes - If you're not in, you can't win
Good Luck

Enjoy St. Patrick's Day
Back to school on Tuesday 19th March
Warrenpoint Feis
The children of P3 and P4 welcome Deirbhile back from the Verse Speaking Feis in Warrenpoint with her two trophies. One for Overall winner in P3 and the other for the highest mark in the feis. We are so proud of you Deirbhile.
Deirbhile (P3) and Harry (P4) both won Gold medals and went back to the Feis on Wednesday to compete against the other Gold Medal winners.
Book Fair
The annual book fair begins on
Thursday 14th March
and ends on
Wednesday 20th March
The books are located in each classroom.
Stationery is also available to purchase.
Friends of St. Paul's Association
Thank you to all those who have expressed interest in this new group. A committee was formed at last night's meeting and the members are as follows:
Chairperson Kevin Kearney
Vice-Charirperson Maurice Quail
Secretary Fidelma Tweedy
Treasurer Sean McAlinden
Assistant Treasurer Sean Gribben
Public Relations Officer Romina Quail/Alice Taylor
Additional Committee Members -
Seamus Morgan
Pauline O'Hare
Siobhan Ward
Sinead Devlin
Orlaith Byrne
Damien Henning
Barry McAlinden
Benice Kelly
Shona Woods
Anne-Marie Ward
Paul Kelly
Michelle Hillen
Lorraine Morgan
First Meeting of the new Committee will take place on
Tuesday 12th March @ 7pm
..........................................................................
Mid-Term Break
School will re-open on
Thursday 21st February
Enjoy your break
****************************
St. Valentine's Day
A selection of the delicious Valentine's buns made by Miss Kelly and the pupils of Reception, P1 and P2. More Pictures in The Gallery
St. Brigid's Day
St. Brigid's Day was celebrated in Cabra with a beautiful assemblyfrom P3 & 4. They had made crosses and created a display to tell everyone all about the life of one of our Irish Saints. Some of the P3 children acted out the story ofhow Brigid helped to convert people to Christianity. They ended the assembly by singing - "We Sing A Sing To Brigid". The display will be on show at the main door for the month of February.
Mrs Paul had a baby boy today.
8th June 2012
His name is
Charlie John Paul.
Congratulations to mummy and daddy
from all at St. Paul's

Ryan Runs With Olympic Flame
Walk To School Week
Thankfully, the weather was on our side for "Walk To School" Week.Once again our children came out in force along the country roads. Walking with their parents, I'm sure they learned more about road safety than they could from any book.
A big thanks to all the parents who accompanied the children to school and of course to the"Schoolbag delivery men! - you all know who you are!
More pics in The Gallery
:):):):):):):):):):):):):):):):):):):):):):):):)
C O N G R A T U L A T I O N S
Well Done to RYAN WOODS (P7) who has won a competition organised by Newry & Mourne District Council entitled "Sustain the Flame" to run with the Olympic torch. Ryan is one of 10 lucky children who will accompany Olympic boxer, Wayne McCullough to carry the Flame across the border. They will be met by another Olympic boxer, Michael Carruth and 10 children from County Louth
This is an experience that will go down in History and one Ryan will certainly never forget.
Yes, we are collecting these vouchers.
At the moment, we have over 5,000 but we still need more. Please ask for them when you do your shopping at Tesco.
Vouchers will not be in stores after 20th May so shop shop shop now!!!
Thank you
Swimming Lessons
For P4-P7
Begins on Friday 27th April.
Children will leave school at 9.30am for Newry Swimming Pool
Swimming hats are required
£10.00 for 4 sessions
Dates
(1) 27th April
(2) 11th May
(3) 25th May
(4) TBA
All children will receive a £1 book token to spend wherever they see this sign. There will be a selection of books priced at £1. but the token can also be used for money off another book.
Tokens are valid from
27th February - 25th March 2012
Paired Reading
with Kate O'Hanlon
7.30pm
in St.Paul's Ps, Cabra
Paired reading is a research-based fluency strategy used with readers who lack fluency. In this strategy, students read aloud to each other. When using partners,more fluent readers can be paired with less fluent readers, or children who read at the same level can be paired to reread a story they have already read.
Paired reading can be used with any book, taking turns reading by sentence, paragraph, page or chapter.
*****************************************
Panto Pictures in the Gallery
(Watch the local papers for more pictures!)
XIXIXIXIXIXIXIXIXIXIXIXIXIXIXIXIXIXIXIXIXIXIXIXIXIXIXIXIXIXIXIXIXIXIXIXIXIXIXIXIXIXIXIXIX
H O M E W O R K C L U B
Started today
(16th January 2012)
3pm-4pm
With Mrs Paul
(As part of extended scools programme)
The homework club is open to all our Key stage 2 pupils (P5-7).
Get help and advice from teachers and peers

Work in a safe and friendly environment

Have access to books and computers

Achieve a homework Club certificate
***********************************************
We're Going To The Panto!
The WHOLE school are going to the Pantomime in Belfast on Thursday 19th January 2012. We are joining up with St. Patrick's Primary School, Hilltown and St. Colman's Primary School, Annaclone as part of the extended schools programme. Full details will be sent home in a letter soon.
The staff of St. Paul's Primary School would like to thank you for all the wonderful Christmas gifts. We hope you all enjoy the festive season.
<><><><><><><><><><><><><><><><><><><><><><><>